About Us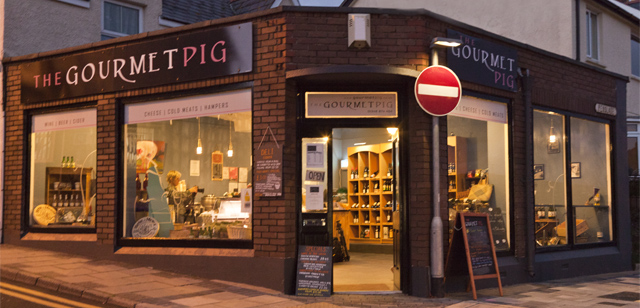 The Gourmet Pig began as an idea borne out of the need to find great local food and decent wine in our market town of Fishguard, Pembrokeshire. As a Farming family we really wanted to support local foods and especially make people aware that it's not expensive to buy local good quality foods. As a lover of good food I just felt that a deli done properly and with attention to detail would be ideal for the town at this point in time. The once thriving market town has over the past few years lost its 2 butcher shops and a fantastic local vege shop and in addition a national chain Wine shop, so we felt there was a need that was not being satisfied by the major supermarkets over 20 minutes' drive away. So the Gourmet pig opened in August 2011.
We wanted to provide a modern, simple and luxurious layout for people to feel comfortable and take their time in choosing the specialty food they love and discovering new foods, as a result the Gourmet Pig started as a wine, cold cut meats and cheese and we have now evolved filling the shelves simply what we have been requested to get, and suggestions from both locals and the many tourists that visit north Pembrokeshire.
Now the Gourmet pig creates a unique shopping experience in a market town that is getting back on its feet, we serve delicious Pembrokeshire and Welsh cheeses and award winning cheeses from Britain and Europe, specialist salamis and cold meats that you won't find in supermarkets including the very popular Pembrokeshire Fayre Ham, small wine producers from, France (Loire and Burgundy), Italy, Spain, South Africa and my homeland New Zealand.  A wide selection of Olives including the cult Sicilian sweet olives, arguably the best Coffee in Wales, homemade savoury and sweet muffins and cakes, Locally made chutneys and relishes, local chocolate brownies, artisan Crackers from England and Sweden, and recently we have begun serving rustic fresh deli ciabattas for lunch.  This spring we will be introducing Fresh Vegetables and Fruits from our own Farm, and before Easter we are launching a range of locally reared and produced fresh meats.